The crime scene cleanup process serves a few important purposes. To start with, it ensures the safety of everyone in the home or other affected areas by sealing off potential contamination and cleaning up any hazardous materials that may have been left behind. Additionally, when executed correctly, with sufficient personal protection equipment being used for all involved workers, it helps ensure the preservation of evidence for further testing if need be. After such a tragic occurrence, timely cleanup should never be overlooked.
When to Contact a Crime Scene Cleanup Crew
Crime scene cleaners do a lot more than just 'clean up' in the sense of removing physical objects; they help families and individuals cope with some of the most traumatic events life has to offer. While we may appreciate that these services are necessary, many of us don't realize some of the scenarios these specialist cleaners may be called on to address. Whether it is blood spills, unattended death, suicide cleanup, or the aftermath of a meth lab, crime scene cleaners are experienced professionals offering solutions to a wide variety of difficult situations that can require specialized cleaning. They also have experience in odor elimination and can even help those struggling with hoarding disorder.
Avoidance of Obstruction to the Investigation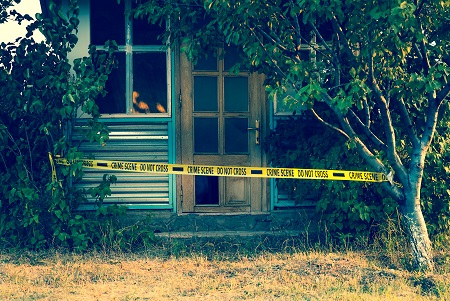 When tragedy strikes your home or place of business, it can be a long and daunting process to get back to normal. Knowing when and how to respond to a crime scene's aftermath can make all the difference in preserving evidence and avoiding future delays. Professional crime scene cleaners coordinate with law enforcement investigators to ensure no disruption in their investigative process.
They Often Offer 24/7 Emergency Responses
Professional crime scene cleanup services are essential to returning a home or business space to a livable, safe condition. Because it is impossible to predict when tragedy will strike, these crews need to be ready 24/7. When dealing with the aftermath of a heart-rending event, a professional crime scene cleanup crew understands the critical importance of quick, efficient service— knowing that lives rely on their immediate action and expertise.
Know How to Cleanup Hazards
Not only will there be evidence of a crime scene incident, but potentially dangerous and long-lasting pathogens will also be left behind. These fluids, such as blood and saliva, can carry unwanted diseases to whomsoever it comes into contact with. In particular, HIV is a life-threatening virus transmitted through these bodily fluids. In extreme cases, death can result for those who unknowingly come into contact with a contaminated scene.
Guarantee Discretion and Integrity
Crime scene technicians are extraordinary individuals who are dedicated to their profession and rarely receive the credit they deserve. In high-pressure and sometimes stressful situations, they maintain an incredible level of discretion and integrity, assuring victims of an appropriate level of respect as they walk them through what can be a very intimidating experience. They embody courageousness and bravery, facing the realities of crime with grace, dignity and precision.
Professionals Have the Proper Training
After a traumatic event that has left your home in disarray, it's important to call in a team of trained crime scene remediation technicians who know how to properly manage the situation. Not only do they know the basics of cleaning up and disposing of biohazards such as blood and body tissue, but they can also safely assess and clean any other potentially infectious materials (OPIM).
Follows OSHA Laws
When the unthinkable happens – a tragic crime in an office – employers must act swiftly and securely to make sure their building is safe. Fortunately, some bio-cleaning companies specialize in crime scene cleanup, making it unlikely that any infectious material remains after they finish their work. Employees have peace of mind knowing their workspace has been fully disinfected of any bloodborne pathogens, which can pose serious health risks if ingested. Laws prompting employers to find reliable bio-cleaning services will help protect them from lawsuits or complaints posed to OSHA and make for a space that keeps their workers secure and content.
Prevent Property Damage
Spills and stains, like blood, are problems that can seem nearly impossible to remove from your property. No matter the scenario, don't fret! If you enlist the help of a crime scene cleanup company or professional disaster recovery specialists, you can have peace of mind knowing your previously stained carpet will be restored back to its original state better than before.
Contact Health Point Cleaning Solutions for Professional Crime Scene Cleanup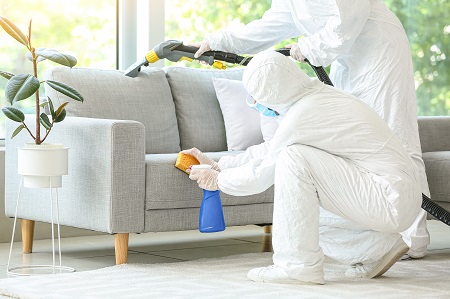 At Health Point Cleaning Solutions, we respect and understand those who are grieving after the death of a loved one. Whether it is from a homicide, suicide, or another traumatic event, these incredibly difficult circumstances can leave you in shock and confusion. We want to ensure that during such heartbreaking times, our support is available to provide guidance. Our professional team specializes in the sanitization of biohazardous materials and provides top-notch services to make sure your safety is not threatened by any lingering threats. Let us handle the job, and contact us when you need our service. Our experts are standing by 24/7 if you need help returning your home or office back to its original condition efficiently and safely.
Here are the related services we offer:
Blood cleanup
Unattended death cleanup
Odor removal
Biohazard cleaning services
Visit our About Us page for more information about our company.