The Search For a Crime Scene Cleaner Is Over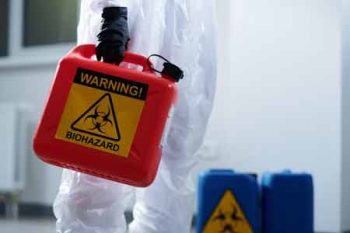 At Health Point Cleaning Solutions, we understand that the death of a friend or family member can be the most heartbreaking and challenging time in anyone's life. After a homicide, suicide, or other traumatic experiences, you can be left in a state of shock, not knowing what to do next. Once the first responders, police officers, and coroners have left, family members are faced with the daunting task of cleaning up the area. Having a cleaning company take care of the scene quickly helps the family members move forward from this difficult time and tend to other important matters.
Our crime scene cleanup services are discrete, caring, and compassionate. We're here to provide you with the following:
Trauma scene cleaning, homicide cleanup, or crime covered by insurance

No out-of-pocket costs, in most cases, other than your deductible

Fast 24/7 service

Locally owned and operated
Aside from the emotional impact of the unexpected event, the family must have any biohazardous waste or materials decontaminated and removed professionally. Our cleanup services are done quickly and with extreme discretion, respect, and understanding to avoid additional attention or distractions. State and federal regulations deem all body fluids and tissue biohazards, requiring expert knowledge and special safety, handling, and disposal procedures. Handling the cleanup yourself is not recommended for physical, mental, or emotional reasons.
Crime Scene Cleaners Cost
If you have homeowner's insurance, there may not be any out of pocket costs other than your deductible. In most cases, homeowner's insurance will cover the cost of our services as well as the replacement and repair of any items that are contaminated and need to be properly disposed of. We will open the claim on your behalf and submit an inventory of any items that are removed or not able to be recovered due to biohazard contamination. If you do not have insurance or are a property manager, please call us for a free estimate.
Get Your Biohazard Cleanup from Us
At Health Point Cleaning Solutions, we are a highly respected and professional biohazard cleanup company covering Arizona's entire state. Our technicians will clean, scrub, disinfect, and properly dispose of all biohazards resulting from the tragic event. We are trained professionals with years of experience working with various biohazards. Our cleaning and decontamination techniques are meticulous and up to industry safety standards. We understand that these events require discretion and respect, which is why our compassionate team will arrive on time and in an unmarked truck.
Call Us For Professional Crime Scene Cleaning Services Today
During our cleaning service, we will contain, isolate, disinfect, clean, and remove all present biohazards. When cleaning up crime scenes, it is essential to clean everything from top to bottom, including ceilings, walls, furniture, personal items, and even light fixtures. Each tiny spot and square inch in a room exposed to biohazards is considered a potential source of infectious diseases and bacteria.
We Provide Crime Scene Clean Up In Phoenix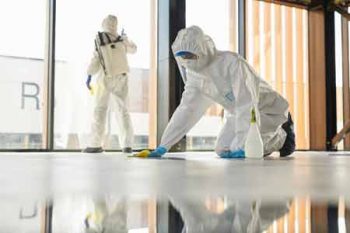 An unattended death is always tragic, and when it's a loved one, the pain can be overwhelming, to say the least. At Health Point Cleaning Solutions, we offer unattended death cleanup throughout Phoenix and the surrounding areas. We are here to assist families that need someone to turn to in their time of need. We are trained, thorough, and discreet.
When death goes unnoticed, whether it be by a couple of hours or weeks, it is classified as an unattended death. Through a natural process, body decomposition is a very hazardous material to anyone in or around the area, which can spread diseases and is why professionals should always handle the location's cleanup.
Get Reliable After Death Cleaning Services Today
Improperly disinfected and cleaned biohazardous materials can pose health risks. Health Point Cleaning Solutions will provide a full and detailed decontamination service, odor removal as needed, and removal of any contaminated furniture or belongings. Our trained technicians have the chemicals, tools, equipment, protocols, and the experience with crime scene cleaning needed to fully restore a residential, commercial, industrial, public, and even an outdoor venue affected by decomposition. Call us to discuss your options before attempting to do any cleanup.