Medical Office Janitorial Services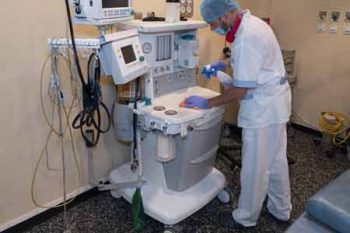 At Health Point Cleaning Solutions, our team of experts provides a wide variety of professional medical cleaning services to healthcare facilities in the greater Scottsdale area. With such a diverse portfolio of clients, we understand that each facility presents unique challenges that require customized cleaning regimens. Our medical cleaning technicians maintain consistent communication in order to tailor our expertise to the needs of your practice. We believe in the work you're doing to help your patients, clients, and residents. Let us help you focus on what matters most by checking excellent sanitation off your list. Call or email today to make an appointment!
Hospital Cleaning Services
At Health Point Cleaning Solutions, our strict standards don't just apply to the operating rooms. Excellent medical office cleaning requires a complete approach from waiting rooms to restrooms. All of our professional cleaning technicians are extensively trained in the specialized cleaning procedures that medical facilities demand. Using appropriate chemicals, tools, and techniques, each cleaning thoroughly disinfects all surfaces and applicable items in your space. Maintaining our rigid standards prevents the spread of infectious bacteria, viruses, and disease. We know you depend on consistent results in your medical office cleaning services, and we intend to deliver.
We provide affordable and flexible cleaning services to a variety of properties, including:
Doctors Offices
Hospitals
Medical Labs
Surgical Centers
Dentist Offices
Assisted Living Centers
Medical Offices
Clinics
Nursing Homes
And More
Terminal Cleaning
Expert medical terminal cleaning is one of the most important investments you'll make as a healthcare provider. Proper terminal cleaning prevents the spread of diseases, viruses, and infectious bacteria. At Health Point Cleaning Solutions, our technicians adhere to the highly specialized and strictly regulated procedures that your medical terminals demand. Not only are we hyper-vigilant of government regulations and industry standards, but we have developed best practices that go above and beyond what is required. If you're looking for the best medical terminal cleaning in Scottsdale, call us today for a consultation!
Terminal Cleaning Services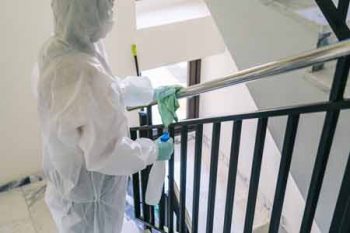 For over two decades, Health Point Cleaning Solutions has made a mission to serve healthcare providers in Scottsdale and the surrounding areas. Our commitment is to raise the standard of sanitation for healthcare environments. Always meticulous and compliant, our patient room cleaning services contain and confine pathogens and other harmful organisms. We start with strict adherence to extensive cleaning protocols that ensure your patients' rooms are thoroughly disinfected and germ-free upon discharge. This includes removing all detachable objects, complete light and air duct cleaning, ceiling downward cleaning, and, of course, disinfecting and sanitizing any items returned to the room.
As healthcare providers, you know that preventing the spread of infection is a top priority of any medical environment. Nosocomial infections, also known as hospital-acquired infections, account for approximately 90,000 deaths in the United States annually. The rise of Methicillin-Resistant Staphylococcus Aureus (MRSA) and other antibiotic-resistant bacteria cause infections that are increasingly difficult to treat. At Health Point Cleaning Solutions, we play a part in curbing trends like these. By employing our state-of-the-art sanitation techniques and standards, we ensure that your exam rooms, operating rooms, and everything in between are thoroughly disinfected every time.
Emergency Vehicle Decontamination Company
Emergency vehicles, like ambulances, often get called out several times throughout the day and can easily become home to a lot of potentially harmful pathogens. Each time a unit is dispatched, there is the possibility of exposure to blood, body fluids, and other bio-hazardous materials, including bacteria and viruses. EMT techs do their best to keep surfaces clean but are trained to save lives and provide safe transport, not to be concerned with cleanliness during a crisis! This can leave harmful materials in the ambulance and put other patients at risk.
That is why emergency vehicle and equipment decontamination is often a difficult task. Health Point Bio Trauma technicians know that each job is unique and requires careful, methodical compliance to protocols and extra attention to equipment like gurneys and stretchers. We are passionate about preventing the spread of disease and keeping our first responders healthy. We work with cities and private companies to conduct routine deep cleaning and sanitizing of emergency vehicles.
In addition to cleaning and disinfecting visible signs of bio-hazardous materials, our experts thoroughly check the vehicle to find and clean blood spatters, minute body fluid drops, or tiny bits of biological matter that may not be clearly visible. We know that dangerous bacteria can quickly grow on any surface or in any corner, so we cleanse and sanitize every nook and cranny to prevent the spread of bacteria.
We strive to give EMT crews the confidence of knowing that each vehicle has been thoroughly cleaned, disinfected, and tested for residual contaminants so that they can do what they do best!
Medical Office Cleaning Near Me
For over 16 years, we have been devoted to providing the best medical facility cleaning services in Arizona. From primary care physicians and specialists to rehabilitation centers and hospices, our services meet the needs of any medical provider looking to achieve excellent cleanliness and sanitation. If you would like to learn more about how our team of medical cleaning experts can help your space, contact us to schedule a consultation today!