First impressions are important. When customers or clients visit your office or place of business, you want them to see a clean and well-maintained environment. One of the best ways to create a positive impression is to ensure your carpets are clean and free of dirt, stains, and other debris. Unfortunately, keeping carpets clean can be challenging, especially in high-traffic areas. The good news is that there are professional carpet cleaning services that can help. Here are just a few of the benefits of hiring a professional carpet cleaning service for your business:
Extends the Life of Your Carpet
Commercial carpets see a lot of wear and tear. They must withstand heavy foot traffic, spills, and other messes on a daily basis. Over time, all of this abuse can take its toll, leading to stained, matted, and otherwise damaged carpeting. Not only is this unsightly, but it can lead to premature wear and tear. The good news is that professional carpet cleaning services can help to extend the life of your carpets. By removing built-up dirt, grime, and other debris, carpet cleaners can restore your carpets to their like-new condition. In addition, they can also apply treatments that protect against future staining and wear. As a result, regular carpet cleanings can keep your carpets looking great for years to come.
Enhances the Look and Feel of Your Office
First impressions are everything, especially when it comes to businesses. You want your office to look and feel clean, professional, and put together. One of the best ways to achieve this is by hiring professional carpet cleaning services. Not only will your carpets be free of dirt, dust, and other allergens, but they will also have a fresh, new appearance. This enhanced look and feel of your office is a benefit of professional carpet cleaning services that can help to improve the overall impression of your business.
Improves Health
Hiring professional carpet cleaning services for your business has various benefits, one of which is improved health for your employees. Dust, pollen, and other airborne particles can quickly build up in carpeting, making it a breeding ground for allergens and other respiratory irritants, which can cause respiratory problems for sensitive individuals. Regular vacuuming can help to reduce the number of allergens in the air, but it is not always enough to remove them completely. A professional carpet cleaning company will have the tools and expertise to remove these pollutants from your carpets, providing a cleaner and healthier work environment for your employees.
Cleaner and Fresher Air Quality
Carpets can often trap foul smells; over time, these smells can become embedded in the fabric, making them difficult to remove. Professional cleaners have the equipment and expertise to deep-clean carpets, removing not only surface dirt but also embedded odors. This can lead to noticeably fresher-smelling business premises, which can be beneficial for both employees and customers.
Improves Employee Productivity and Performance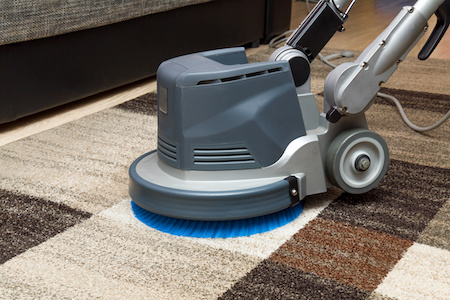 An office that looks and smells fresh conveys a professional image that instills confidence in those who do business with you. Moreover, an unclean office can actually have negative effects on employee productivity and performance. Studies have shown that a clean office directly correlates to improved employee productivity and performance.
Saves You Time and Money
When you're a business owner, time is money. And when it comes to cleaning, trying to do everything yourself can take up valuable time that could be better spent on running your business. Not to mention, unless you have professional-grade equipment, the results may not be up to your standards. This is why delegating carpet cleaning to professionals can save your business time and money. Carpet cleaners have the experience and expertise to get the job done quickly and efficiently. They also have access to high-quality equipment that can remove stubborn stains and dirt. In addition, most carpet cleaners offer discounts for businesses so that you can save even more money. So if you're looking to free up some time and get your carpets looking their best, consider hiring a professional carpet cleaner.
Your Local Commercial Carpet Cleaning Professionals
At Health Point Cleaning Solutions, we understand that every business is different. That's why we offer customized commercial carpet cleaning plans to fit your specific needs and budget. Whether you manage a small business, a large corporation, a medical office, an educational facility, or anything in between, we are confident that we can build a plan that will get the job done right. Contact us today to get an estimate! We look forward to serving you and your community.
Health Point Cleaning Solutions is proud to offer the following services:
Janitorial Services (hospitals, offices, schools, retail establishments, and more.)
Commercial Cleaning Services (hospitals, offices, schools, retail establishments, and more.)
Biohazard Cleaning Services
Homeless Encampment Cleanup
And much more!
Want to learn more about us? Check out our "About Us" page!