When it comes to keeping your office clean, you want to make sure you hire a professional company that will do the job right. But with so many options out there, how do you know which one to choose? Here are a few questions to ask before hiring a cleaning company for your office:
1. What services do you provide?
If you decide to hire a cleaning company, it's important to ask about the type of services they offer. Some companies specialize in janitorial services, while others offer more comprehensive cleaning services. Janitorial services typically include tasks like vacuuming, mopping, and dusting. More comprehensive cleaning services may also include window washing, carpet cleaning, and upholstery cleaning. Depending on your needs, you'll want to choose a company that offers the right mix of services.
2. How much will your services cost?
When it comes to hiring a cleaning company for your office, one of the most important things to ask about is pricing. Not all companies charge the same rate, and it's important to get an estimate so that you can budget accordingly. In addition, be sure to ask about any hidden fees or surcharges. Some companies may charge extra for things like supplies or fuel, so it's important to be aware of these costs upfront.
3. What's included in the price of the service?
When it comes to hiring a cleaning company for your office, it is important to make sure that you are clear on what is included in the price. Some companies will include all of the basics, such as vacuuming and dusting, while others may charge extra for services such as window washing or carpet cleaning. Be sure to ask about all of the possible services so that you can get an accurate estimate of the cost.
4. What does your schedule look like?
You'll want to decide how often you would like the cleaning company to come. This will depend on the size of your office and the amount of foot traffic. If you have a small office with only a few employees, you can probably get away with having the cleaning company come once a week. However, if you have a large office or high foot traffic, you may need to have the cleaning company come multiple times per week. Second, you'll want to ask about the cleaning company's schedule. Most companies offer flexible scheduling so that you can choose the best time for your business. However, it's always a good idea to ask about the schedule in advance so that you can make sure there are no conflicts.
5. What is your employee screening process?
When hiring a commercial cleaning company, be sure to ask about their employee screening process. A reputable company will have a strict screening process in place to ensure that only the most qualified and trustworthy individuals are hired. This may include conducting background checks, checking references, and requiring applicants to pass a drug test. By taking the time to ask about the cleaning company's employee screening process, you can help to ensure that your office remains safe and clean.
6. How long does the cleaning service usually take?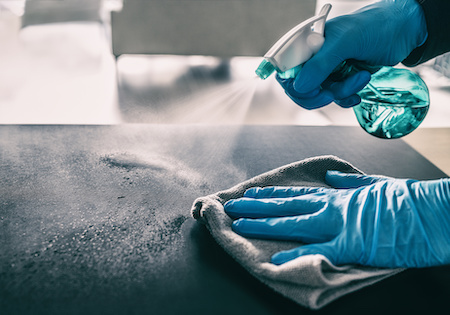 You want to ask the cleaning company for an estimation of how long it'll take them to complete the job. This will give you the opportunity to plan everything accordingly.
7. Is your company licensed and insured?
When you are looking for a professional cleaning company to maintain your office, it is important to choose a licensed and insured business. This ensures that the company is legitimate and that you are protected in the event of any damages that may occur during the cleaning process. Furthermore, an insured company will have its own liability insurance, which will protect you from any financial responsibility in the event that someone is injured while on the premises. By choosing a licensed and insured cleaning company, you can be confident that your office will be well-maintained and that you are protected against any potential risks.
8. Do you provide your own supplies?
When hiring a professional cleaning company, it is important to clarify what supplies will be included in the price of their services. Some companies provide all of the necessary supplies, such as vacuum cleaners, mops, and cleaning solutions. Other companies expect their clients to provide these items. Either way, it is important to ask about what is included before making a final decision. Otherwise, you may end up being responsible for purchasing all of the necessary supplies yourself.
In Need of Office Cleaning Services? Call Health Point Cleaning Solutions!
As any business owner knows, first impressions are everything. That's why finding the right corporate cleaning company is so important. Your office space is a reflection of your brand, and cleanliness is often the first thing your clients notice. At Health Point Cleaning Solutions, we ensure that your office cleanliness matches the excellence of your brand. With an expert team of cleaning technicians and robust administrative support, Health Point can work with your schedule and budget to find janitorial services that work for you. 
Benefits of choosing Health Point Cleaning Solutions:
Customer Satisfaction
Excellent Customer Service
Dedicated Cleaning Teams
Clean Business Facility
Comprehensive Commercial Cleaning Packages
Wide Range of Janitorial Cleaning Services
And Much More!
If you're ready to elevate your business with the top corporate office cleaning company in Scottsdale, AZ and surrounding areas, call today to schedule a consultation!