A clean and organized workspace can have a tremendously positive effect on any business, large or small. It helps to create a sense of calm in workers and can improve their overall productivity. An orderly space also helps employees and customers feel secure, knowing that the business is taking steps to protect their health and safety.
As your local commercial cleaning experts, here are a few suggestions for keeping your business clean and safe for everyone involved.
1. Create a Cleaning Routine and Stick to It.
A great way to keep your business clean is to create a cleaning routine and stick to it. Start by making a list of all the tasks that need to be done each day, such as dusting surfaces, vacuuming floors, cleaning bathrooms, wiping down doors and tables and taking out the trash. Then assign them to specific staff members so that everyone knows who is responsible for what. Once the routine is established, make sure each task is completed on time every day. You can even incentivize your team by offering rewards for completing the job quickly and efficiently. Finally, reinforce the importance of cleanliness among your staff in order to develop an ideal working space where healthy habits are encouraged. By consistently creating a cleaning routine and sticking to it, businesses of all sizes can keep their premises in top condition with minimal effort.
2. Invest In Quality Cleaning Supplies.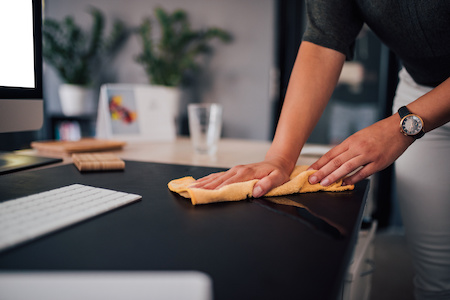 Investing in quality cleaning supplies is a great way to ensure that your office or retail space looks its best. Make sure you have the necessary tools for regular maintenance, such as mops and brooms, as well as liquid cleaners specifically designed for different surfaces. For tougher dirt and grime, take advantage of specialized items like degreasers to help you get the job done more quickly and efficiently. Finally, investing in professional-grade equipment such as steam cleaners can help make deep cleaning a breeze. Taking the time to invest in quality cleaning supplies will give you the means to keep your business well-maintained at all times, creating a professional atmosphere that your customers will appreciate.
3. Provide Staff With Training On Proper Hygiene Protocols.
One of the best ways to ensure that your workplace is consistently germ-free is to provide your staff with training on proper hygiene protocols. Educate them on how to properly wash their hands and clean their work surfaces with the appropriate cleaning solution; encourage them to wear protective equipment such as masks and gloves when necessary; discourage them from sharing tools or other items which may become contaminated, and provide information on sickness policies if they show signs of virus symptoms. By providing regular education on proper health practices, you are helping your staff understand the need for good individual hygiene practices in order to protect themselves, each other, and all those who visit your business premises.
4. Install Sanitization Stations.
Installing sanitization stations in your office or place of work can be an extremely effective way to ensure that everyone remains healthy and safe while they are there. Sanitizing stations can come in various forms depending on your specific needs, but they all provide an easy way to cleanse hands and other surfaces quickly. Not only will you be killing germs immediately, but it also helps reinforce the idea that cleanliness matters—especially when employees are interacting with customers or going between work areas. Investing in sanitization stations is a great way to show how serious you are about keeping your business clean and healthy for everyone involved. It's a small effort now that can significantly benefit employees and customers alike.
5. Regularly Disinfect High Traffic Areas.
In order to ensure a safe and healthy place of work or place of business, routine disinfecting of high-traffic areas should be taken seriously. High-traffic areas can accumulate surface germs over time that can spread sickness easily. This is why it is so important to perform regular, thorough disinfecting of high-traffic areas. Regularly sanitizing heavy touchpoint surfaces like door handles, light switches, counters, bathroom surfaces, elevators and common furniture will help to reduce the possibility of spreading illness-causing bacteria in your workspace or retail space. Taking the necessary precautions, such as regularly sanitizing high-traffic area surfaces, will greatly reduce the number of germs and mitigate risk when interacting with people in those spaces daily.
6. Hire Professional Cleaning Services.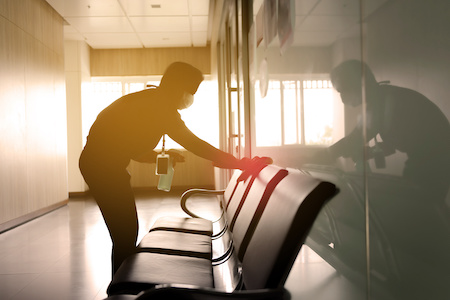 Regularly maintaining the cleanliness of an office is no small feat, however, and can be difficult to manage with in-house staff. That's why hiring professional cleaning services can be such an invaluable asset. Outsourcing your commercial cleaning needs to professionals allows you to invest your limited time into more productive tasks or further building your business. Keeping a business clean requires detailed attention to detail, so professional cleaners use sophisticated methods and top-of-the-line equipment for maximum efficiency and thoroughness. Additionally, experienced cleaners prioritize proper disinfection protocols to ensure that your office spaces meet the standard for health and safety. Investing in professional cleaning services is a worthwhile strategy that will ensure you always put forth an exemplary image while providing a safe space for employees and customers alike.
Your Local Commercial Cleaning Specialists
At Health Point Cleaning Solutions, we strive to provide our customers with the best professional cleaning services. Our team is motivated by our belief that a safe and clean environment is essential for everyone – no matter what type of work you do or how large your workspace is. We understand that having a regularly cleaned facility is about more than keeping up appearances; it's also about protecting the health of your employees and maintaining your professional reputation. In order to deliver quality services, we use only state-of-the-art equipment, industry-standard methods, and professional-grade products. We will ensure that all our cleaning plans are custom tailored to every client's schedule and budget in Chandler, AZ, and surrounding areas, so you're completely satisfied with the service we provide. We take pride in our dedication to providing a superior cleaning experience for all of our clients. With our expertise and commitment to excellence, you can trust that your space will be kept spick and span!
Benefits of choosing Health Point Cleaning Solutions:
Excellent Customer Service
Dedicated Commercial Cleaning Teams
Clean Business Facility
Comprehensive Office Cleaning/Commercial Cleaning Packages 
Wide Range of Janitorial Cleaning Services (medical facilities, schools, offices, and much more!)
And Much More!
If you're ready to elevate your business with the top commercial cleaning company in Chandler, AZ and surrounding areas, call today to schedule a consultation!