How do you choose the best janitorial service provider for your business? A janitorial service can bring many benefits to a business, including improved cleanliness, increased efficiency, and lower costs. However, it is important to select a good company in order to maximize these benefits. In summary, a good janitorial company will have experience in servicing businesses of your size and type and will be able to tailor their services to your specific needs. They will also use high-quality cleaning products and equipment and will have a team of reliable and professional staff. By taking the time to do your research and ask questions, you can ensure that your business will reap the maximum benefits of their services.
Keep reading if you want to learn more about the factors you should consider when looking to hire a janitorial company.
Reviews and Referrals
When it comes to choosing a janitorial company, reviews and referrals can be incredibly helpful in making a decision. Reading reviews from past and current clients can give you a good sense of what to expect in terms of service quality and value. Likewise, speaking with friends, family, and colleagues who have used janitorial services before can provide valuable insights into different companies. Taking the time to research your options and get input from others can help ensure that you choose a janitorial company that is right for you.
Experience
The experience of a service provider should be one of your top considerations. A janitorial company that has been in business for several years is likely to have a proven track record of providing high-quality services. Furthermore, experienced companies are typically more efficient and have better systems in place for ensuring that all areas of your facility are clean and well-maintained. In contrast, newer companies may still be working out the kinks in their operations, which could lead to subpar results. So when you're looking for a janitorial company, be sure to ask about their years of experience. That way, you can be confident you're making the best choice for your facility.
Equipment and Product
Don't be afraid to ask service providers what type of equipment and products they use.
Considering the type of products and equipment they use is more important than some people realize. Unfortunately, some companies still use harsh chemicals and outdated equipment that can damage your floors and furniture. Others may use eco-friendly/green cleaning products but lack the proper equipment to get the job done right. The best janitorial companies will use high-quality products and state-of-the-art equipment to clean your space thoroughly and safely. They will also have a team of experienced professionals who know how to properly use the products and equipment to get the best results.
Services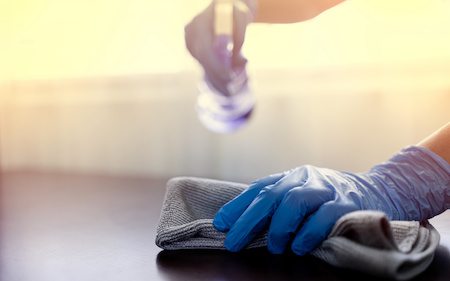 When choosing a janitorial company, it is also important to consider the types of services they provide. For example, some companies may provide basic cleaning options, while others may offer more comprehensive services such as carpet cleaning, window washing, and trash removal. Additionally, not all janitorial services service all types of commercial clients. Some may specialize in office cleaning, while some may only work with medical offices etc.
Once you have determined your needs, you can then begin to narrow down your choices and find a janitorial company that can provide the services you need to keep your business looking its best.
Schedule
One of the most important factors to consider when choosing a janitorial company is the schedule. If you have a specific time frame in mind, be sure to ask if the company can accommodate your schedule. Some companies may only offer service during regular business hours, while others may be able to offer service after hours or on weekends. In addition, it is important to ask about the frequency of service. Some companies may offer daily service, while others may only offer service once a week. By considering the schedule, you can be sure to choose a janitorial company that meets your needs.
Price
Price and budget are important considerations when looking for a janitorial company. The cost can vary depending on the services provided, the size of the facility, and the frequency of service. Budget may also be a concern, as some companies charge more for their services than others. It is important to compare prices and services before selecting a janitorial company, as this will help ensure that you are getting the best value for your money without breaking your company's budget. With that said, price should not be the only consideration, as the quality of service is also extremely important. You want to make sure you're not compromising on quality.
Your Local Commercial Janitorial Cleaning Service Provider
Health Point Cleaning Solutions is the premier commercial cleaning service in Arizona. Our team of cleaning experts are dedicated to providing a safe and clean space for all that enter your office or facility. We offer complete cleaning services to all business types, either through one-off appointments or regularly scheduled services. Choose from our popular services, or request a custom consultation to see how Health Point Cleaning Solutions can serve you, your employees, and your customers. With over 16 years of experience in commercial cleaning, you can trust that we will exceed your expectations and deliver a clean and healthy environment for everyone. Contact us today to get started!
We offer the following services:
Janitorial Services (hospitals, offices, schools, retail establishments, and more.)
Commercial Cleaning Services (hospitals, offices, schools, retail establishments, and more.)
Biohazard Cleaning Services
Homeless Encampment Cleanup
And much more!
Check out Health Point Cleaning Solutions on Google! Our reviews speak for themselves.