Commercial cleaning services can be an excellent asset for any business, big or small. If you struggle to keep up with the cleaning demands of your business, it may be time to consider hiring a professional cleaning service. Commercial cleaning services can take on the bulk of the cleaning work, leaving you and your staff free to focus on more important tasks. When you are searching for janitorial services in Chandler, AZ, it is important to find a company that will tailor its services to meet your specific needs. Find out the different types of cleaning services janitorial companies provide.
Janitorial Services Typically Provided By Cleaning Companies
Business owners know that a clean and presentable commercial space is crucial to success. First impressions matter and potential clients will be turned off if your office or store is cluttered or dirty. This is where professional janitorial services come in. A reputable janitorial service will take care of your business's commercial cleaning needs, from vacuuming and dusting to mopping floors and cleaning bathrooms. In addition, most janitorial services will also empty trash cans, refill paper towel dispensers, and restock soap dispensers. When choosing a janitorial service for your business, it is important to do your research and choose a reputable company that will deliver quality results.
Deep Cleaning
Studies have shown that employees who work in a clean, safe, and healthy environment are typically happier and more productive. Deep cleaning can help remove any lingering dirt, dust, or debris that could cause health problems. It can also help to create a more efficient work environment by decluttering areas and organizing items. In addition, deep cleanings can also help to improve morale by making employees feel appreciated.
Sanitizing and Disinfecting
You need a team that will understand the specific needs of your business and that will take the time to sanitize and disinfect each area thoroughly. The right provider will use the proper disinfecting chemicals and sanitizing techniques to make sure that your business is as clean as possible.
Green Cleaning
Green cleaning is all about making the switch to cleaning products that are better for both people and the planet. It might seem like a small change, but it can make a big difference in the health and well-being of your people. Not to mention, it also prevents unnecessary chemicals from being released into the environment.
Trash Removal and Recycling
There's nothing worse than a stinking, overflowing trash can. But if you're relying on your staff to take out the garbage, it's easy to forget. With a professional janitorial service, you can be sure that the garbage will be taken out on a regular basis. Not only will this keep your office smelling fresher, but it will also help to prevent pests.
Dusting
When it comes to dusting, some surfaces are easier to reach than others. Dust can quickly accumulate on high surfaces like ledges, ceiling fans and window sills. It can also settle into hard-to-reach places like baseboards, crevices and corners. Even decorative items like picture frames and office plants can become dusty over time. Rather than struggling to reach these difficult areas, hire a professional janitorial service to do the dusting for you.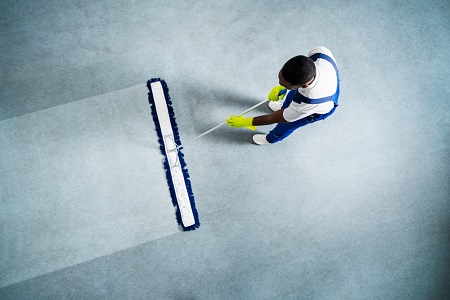 Mopping and Vacuuming
A clean floor is the foundation of a well-maintained business, and there are few things as frustrating as realizing people are tracking in dirt and grime every time they walk across the carpets or hard floors. The best way to combat this problem is to find a janitorial service that can keep your floors looking their best. Look for companies that offer vacuuming, mopping, and deep cleaning for both carpets and hard floors.
Window Cleaning
There's no denying it – windows can become smudged, especially on glass entry doors or windows within reach of small children. But streaky, dirty windows don't have to be the norm. A professional cleaning company will make sure your glass is always looking bright and clean. In addition, clean windows let in more natural light, which has been shown to boost productivity levels.
Places Commercial Janitors Typically Clean
Here are places inside your business that janitorial services typically clean:
Restrooms
The bathroom is often one of the most neglected areas in terms of cleaning. Doorknobs, handles, light switches, paper towel holders, and soap dispensers are just some of the areas that are often forgotten about. The best janitorial cleaning companies will not only pick up messes and disinfect the area, but they will also address any stains and smells that make the bathroom area unpleasant. By addressing these areas, they can ensure that your bathroom is clean and fresh-smelling. In addition, they can help to prevent the spread of illness by removing any dirt and bacteria that may be present.
Staff Areas
The breakroom is often seen as simply a place to take a break from work, but it can also have a big impact on employee health and happiness. By disinfecting countertops, sinks, and faucets, as well as cabinets and appliances, businesses can help stop the spread of germs. This not only helps to keep employees healthy but can also boost morale by showing that the company cares about their well-being.
Kitchens
No one likes a cluttered and dirty kitchen- least of all the Health Department. If your company is always falling behind on keeping the kitchen clean, it might be time to hire a janitorial service. Not only will this take some stress off of your employees, but it will also help to keep the place where you prepare food clean and fresh. A janitorial service can provide weekly or biweekly cleaning, making sure that all surfaces are disinfected and that there is no built-up dirt or grime.
What To Look For In a Janitorial Cleaning Company
Attention to detail is one of the most important qualities of a good janitor. Some of the little things that they pay attention to include dusting framed pictures, wiping down doorknobs and office equipment, and wiping doors down. These are all areas that often get overlooked but can make a big difference in the overall cleanliness of a space. This attention to detail is what sets them apart from the rest and ensures that their clients are always satisfied with their work.
Contact Your Local Janitorial Cleaning Service Company Today!
For over 16 years, Health Point Cleaning Solutions has provided the most trusted commercial janitorial cleaning services in the Chandler area. We have built a team of professionals that are guaranteed to meet your needs. From carpet cleaning services to hard floor cleaning, we always adhere to our rigorous cleaning standards. Local businesses all across Chandler have partnered with our technicians to ensure that their facility's challenges are met with efficient and consistent solutions. Our janitorial cleaning services are second to none, and we always go the extra mile to make sure our clients are satisfied. Contact us today to schedule a free consultation. We look forward to exceeding your expectations!
Here are some of the janitorial services we provide:
Standard cleanings
Office cleaning services
Commercial carpet cleaning
Commercial floor cleaning
Check out our website on Google reviews!