Maintaining a clean medical office is extremely important. Not only is it important to maintain a clean office in order to protect patients and staff from illness, but it is also required by law. Cleanliness is paramount to the success of your medical office, especially during the pandemic we are facing today. Proper sanitization and cleaning can ensure your facility is doing its part in preventing germs from spreading. In this blog post, we will discuss the importance of maintaining a clean medical office, as well as why you should hire a professional cleaning service who is familiar with medical office cleaning practices.
Ensures a healthy environment
Keeping your medical office clean can help prevent the spread of germs, which can cause illness. The more you can reduce the number of bacteria in your medical office, the more likely it will be that patients who visit won't get sick. 
Professional cleaning services have the proper sanitization equipment and the expertise on how to use them. They stay up to date with current medical office cleaning practices and are able to ensure that your medical office is free of germs, build-up, and bacteria. 
Preventing illness
Maintaining a sterile medical office is crucial for preventing the spread of illness-causing germs that can be harmful to the health of your patients and employees. This is extremely important today during the Covid-19 pandemic!
Gives your office a professional appearance
The more dirty and unkempt your office is, the less likely it will be for people to want to come back again. Maintaining a sterile medical office shows that you care about your patients and know how to take care of them.
Improves patients confidence
When someone comes for medical treatment at a clean and organized medical office, they're likely to feel more confident in the care they're receiving. Maintaining a clean medical office can also be an amazing advertising tool as it directly impacts the image and opinion people have of your business. If your patients feel confident in your medical office, there is a higher chance of them recommending someone else to your clinic.
Helps with avoiding lawsuits
The law requires medical offices to undergo daily cleaning and sanitization practices. Maintaining a clean and sanitized medical office will help prevent the risk of a lawsuit.
It helps you stay in compliance
Naturally, concerned authorities will require medical practitioners to maintain a pristine working environment. Failure to abide by these requirements could easily get your license revoked. As such, hiring professional cleaning services allows you to stay out of trouble with the authorities and keeps your practice going. 
To prevent and eliminate bacteria
Proper cleaning of your medical office not only helps to keep your patients healthy but also those who are working there. This is because the fewer germs around, the less likely it is for them to spread and make everyone sick. It's important to have and maintain a medical office cleaning schedule.
Attracts new customers
When you have a clean and professional-looking medical facility, it will attract new customers who need medical care. This is because they'll see that you take pride in your work and that you're an organization that they can trust. Not only will this help to bring in more business, but it will ensure your current patients remain happy and feeling cared for.
Helps you maintain a good reputation
Clean and organized medical offices are essential in maintaining a good reputation for your medical business. This is because it shows that your organization cares about the patients who come through its doors. It can be very difficult to rebuild a tarnished reputation, so it's essential to do everything you can to keep it clean and in good shape.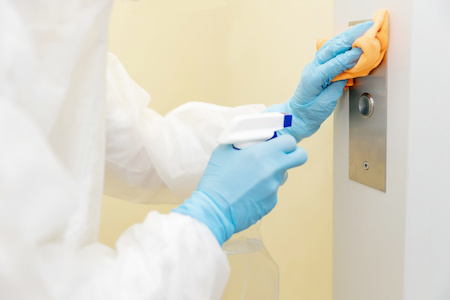 Creates a conducive working environment for employees
When there is proper sanitation in your healthcare facility, it helps to create a conducive and healthy environment for the employees. This is because they'll be able to focus on their work and not have to worry about cleaning up the messes around them. This will help them be more productive, happier, and feel safer while at work.
Can I hire office medical office cleaning services?
Yes, you can hire professional medical office cleaning companies to care for your dirty and cluttered healthcare facilities. Not only will they do a better job at keeping the place clean, but they'll also be able to tell you what else needs to be done for it to look its best.
Contact Health Point Cleaning!
At Health Point Cleaning Solutions, our team of experts provides a wide variety of professional cleaning services to healthcare facilities in the greater Phoenix area. With such a diverse portfolio of clients, we understand that each facility presents unique challenges that require customized cleaning regimens. Our medical cleaning technicians maintain consistent communication in order to tailor our expertise to the needs of your practice. We believe in the work you're doing to help your patients, clients, and residents. Let us help you focus on what matters most by checking excellent sanitation off your list. Call or email today to make an appointment!