Good hygiene practices are critical in the medical field. Taking the right steps to keep surfaces and objects clean can help reduce the spread of germs and illnesses. But for everyday medical office maintenance, employees need to take the initiative and clean up their individual workspaces. It is highly recommended that professional cleaning crews be hired to deep clean any office space on a regular basis.
This could include washing hands regularly, wiping down desks and high-touch surfaces like phones and keyboards with disinfectant wipes, and regularly taking out the garbage. Practicing these habits is also beneficial for promoting healthy working habits year-round.
Make Sure You Have the Right Cleaning Products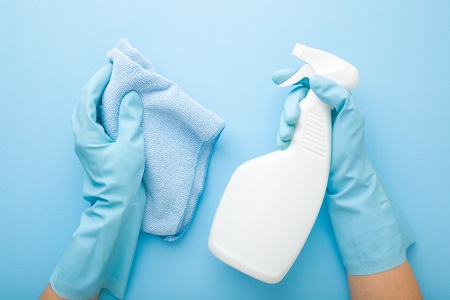 Using high-quality industrial cleaning products can make a huge difference in the cleaning job's thoroughness. Professional cleaners are aware of which products will offer optimal results quickly and safely. Fortunately, asking your hired cleaning professionals for advice on what type of products to use will provide knowledge of the latest materials available on the market designed for effective cleaning. By incorporating a professional cleaner's expertise into your regular cleaning routine, you are ensured that your medical office will remain clean and germ-free.
There are 4 main ways to disinfect:
Disinfectant– kills bacteria, viruses, and other dirt particles on surfaces
Antiseptic– kills germs on bodily tissues
Sanitizer– decreases the number of germs on surfaces and bodily tissues
Antibacterial– kills bacteria on surfaces or bodily tissues
Top disinfectants you can use:
Alcohol– kills viruses, bacteria, and fungi
Bleach– kills viruses, bacteria, and fungi
Ammonia– kills most bacteria
Hydrogen peroxide– kills viruses, bacteria, and fungi
Clean and Disinfect Surfaces
Cleaning and disinfecting surfaces are important in preventing the spread of harmful germs. As the Centers for Disease Control and Prevention (CDC) recommends, it is best to first begin by washing a surface with soap and water. This removes dirt, oils, and residues that can block disinfectants from efficiently killing germs. After cleaning surfaces with soap and water, use a disinfectant according to the directions given on the container or label. It is also important to wash your hands thoroughly before and after cleaning.
Clean Most Touched Surfaces/Objects
As an employee, it is important to recognize the areas of your workplace that are exposed to the most traffic and contact. Here are some commonly touched objects you will not want to forget to disinfect daily:
Light switches
chairs and chair arms
Doors and door frames
Sinks
Countertops
Keyboards
Computer equipment
Tables
Clipboards
Phones
Cabinet handles
Drawer handles
Desks
Floors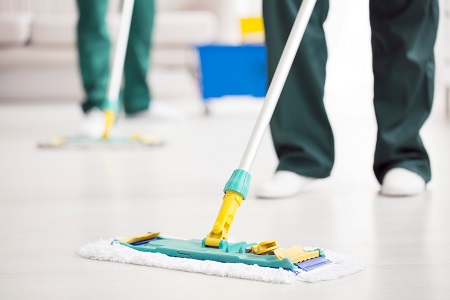 Flat mops are undeniably the better choice in medical environments due to their reach into small areas that may not be accessible with traditional cleaning methods. Flat mops are ideal for getting under cabinets and chairs, making sure every inch of space is covered with cleaner and disinfectant. Microfiber is a must when using flat mops and should be used on a per-room basis for maximum sanitation. It's important to note that properly vacuuming floors first is necessary before using a mop, as this ensures the best possible results from your cleaning regimen.
Dust
Dust accumulation on surfaces, especially in public and medical spaces, is far more than just an aesthetic irritation. These tiny particles can contribute to various health issues when left unchecked. In medical offices, dust and dust mites easily become airborne, aggravating respiratory conditions in patients with asthma and allergies. As these conditions are already difficult to manage mentally and physically, it's important to keep dust levels to the absolute minimum through regular cleaning practices.
Disposing of Hazardous Materials
It is vital to hire a cleaning firm with expert knowledge of the handling and disposal of hazardous materials when it comes to keeping a medical office in pristine condition. Such regulations vary from state to state, so the cleaning staff must have up-to-date information about disposal requirements for medical waste within their area. For example, many states require disposable containers known as "sharps" for needles and blades. Furthermore, it's important to know the rules around different containers for different medical waste. With potentially dangerous elements at play, research the guidelines surrounding the hazards prescribed by the FDA before signing any contracts with a cleaning firm to ensure that all regulations are being followed properly to keep everyone safe.
Keeping Trash Empty
To minimize the risk of infection, employees must regularly empty the trash bins during the day and deeply sterilize them at night. Additionally, anyone responsible for cleaning up should receive instructions on how to safely discard any " sharps, " used syringes that have come into contact with blood, to ensure the basic protection of patients and personnel. By following these guidelines and taking extra sanitation steps as needed, you can create a safe and healthy environment within any medical building.
Additional Cleaning
Keeping a medical office clean is essential for providing patients and staff a safe, germ-free environment. Other considerations in addition to the regular cleanings listed above include:
Keeping hand sanitizer bottles full all around the facilities.
Refilling paper towels and hand soap.
Air duct cleaning and making sure to filter the HVAC system.
Using proper pest control solutions.
Clean mirrors, windows and glass.
Use disinfectant wipes or sprays and let them sit for the recommended time to kill germs effectively.
Provide masks for all staff and encourage patients to wear them by keeping free ones available at entryways.
Use HEPA air purifiers to improve air quality and reduce the spread of germs.
Keep a log of cleaning and disinfection activities, such as using a checklist to ensure all areas are being addressed.
Have a designated area for used personal protective equipment (PPE) and dispose of it properly.
Hire Professionals For Regular Deep Cleanings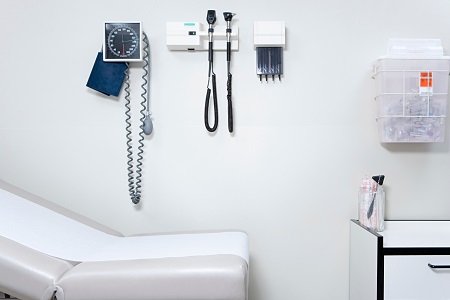 Health Point Cleaning Solutions has been delivering top-of-the-line medical facility cleaning services to Arizona for over 16 years. We are experienced in creating and implementing comprehensive cleaning plans for medical providers, including primary care physicians, specialists, rehabilitation centers, and hospices. Our team is committed to ensuring your space meets the highest standards of cleanliness and sanitation. If you are looking for an experienced and dedicated medical cleaning provider, then Health Point Cleaning Solutions is your go-to professional cleaning service!
Contact us today to learn more about how we can help make your facility spotless.
We clean the following healthcare offices:
Doctors Offices
Hospitals
Medical Labs
Surgical Centers
Dentist Offices
Assisted Living Centers
Medical Offices
Clinics
Nursing Homes
And More
Visit our About Us page for more information about our company.